The Story of Little Milton – Top Album Challenge No. 9/10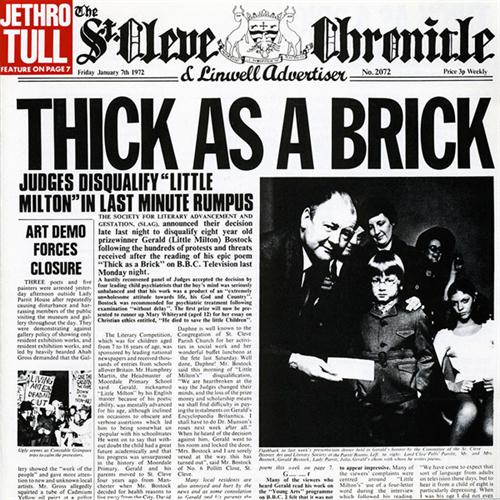 Later – when announcing his epic live – Ian Anderson would say: "… we even did concept albums …" – with a little pitch in the tone on "concept". Jethro Tull weren't particularly a progrock formation, more like a genius crossover of folk, rock, a little irish/celtic here and there with progrock as the icing of the cake.
No. Wrong. The icing of the cake was Anderson's art of playing and "singing" the flute at the very same time.
Anyway – there is one Tull album, indeed, rightfully to be claimed into the progrock section. And it is accompanied by a brilliant story (composed into a newspaper issue of the "St. Cleve Chronicle & Linwell Advertiser") around a boy winning a literature contest and being disqualified afterwards as psychiatrists judged him to have a "seriously unbalanced mind". Embarrassingly enough, it was years past my acquaintance with the record that I realized, the story was actually 100% fake 🙂
"Little Milton" named the poem he won with "Thick as a Brick". And the newspaper reports are reprinted beneath the youtube link, I chose … Have fun with my penultimate top album challenge feature!
P.S.: When searching google for "thick as a brick newspaper", one can find loads of copies of that 12 page St. Cleve Chronicle & Linwell Advertiser from 1972.